Jack the lunchbox is a very important person in the Santiago Reign of Fiji. Jack is Santiago's right hand man. Luckily when Santiago was very young he had Jack removed, and he was able to go on living a normal life. Jack lives in multiple bodies. One of his bodies is shown below. This lunchbox form was ripped in the area shown below by a crazed fan.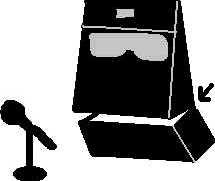 From Left to Right: Entertainment Jack, Brown Paper Bag, and Fighting Jack.
In the recent weeks, Jack has been using his body form of a bull dog, his wrestling/boxing form. His list of accomplishments include starring in several films, being an avid gymnast, being a wrestling champion, and having a very popular singing career.