Welcome to the Santiago Military Page
This page is totally dedicated to all of those boats and frogs and tanks....
The Military Divisions
Commander-in-Chief: Santiago
Generals: Josh and Scott
Military Intelligence: Andrew and Josh S.
The Military Units
Animals
Shamu
The famous whale that can smash through the hull of a enemy boat easily. Like so...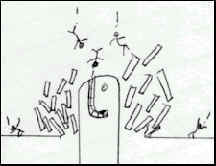 Cats
Led by Naomi, Santiago's pet cat, the Cat squadron is an elite unit. Cats are experts at stealth movement and have infiltrated Tyler's army many times.
Dogs
Dogs are the sentries in Santiago's army. They guard against enemy cat infiltrators and other Tyler attacks. Dogs are led by the great dog general, Rufo.
Fish
Led by the brave and daring Gen. Alberto, the fish are important sea forces. Due to their size and speed, they can rush around quickly, attaching explosives to the hulls of Tyler's ships.
Parrots
Led by Saque, the birds provide well needed reconnaissance and bombing capabilities. The birds are also famous for the great "Bird Assault" where they turn into the birds from Alfred Hitchcock's movie "Birds"
Frogs
Led by General Coqui, the frogs, or coquis as we call them, are the basic ground forces for Santiago. They have little plastic explosives on the end of their tongues. The little explosives are produced by the Coquis' body, so it is very rare that a Coqui will run out of ammunition. When they shoot their tongues out they stick the explosives to Tyler's soldiers. The evil forces then blow up.
Non-Animal Forces
Soldiers
Human ground soldiers are put into divisions with frogs. One-thousand soldiers goes with two million frogs to create a division. However, a large portion of the soldiers also go into the parachute division, there, there are no frogs.
Tanks
Santiago tanks are the best all around fighting vehicles in the world. Santiago tanks are small and fast with a powerful gun (175mm) Santiago tanks easily destroy Tyler tanks which are large, slow, and cumbersome, but they do have a much larger cannon.
Airplanes
These are the little bombers and fighter planes that are launched off of the Santiago aircraft carriers. They are very important in wars, and can be mass produced during lunch time.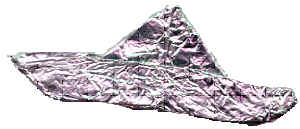 Boats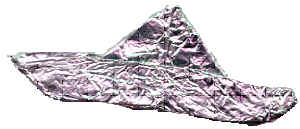 These are the main part of the Santiago army. They cruise along and destroy enemy ships. Pretty simple. There are some extras like air craft carriers, rafts, and subs
Military Strategy
The Santiago military strategy is to kill the enemy!!! Basic!!! Simple!!! Good!!!
here is a map of the Santiago field layout...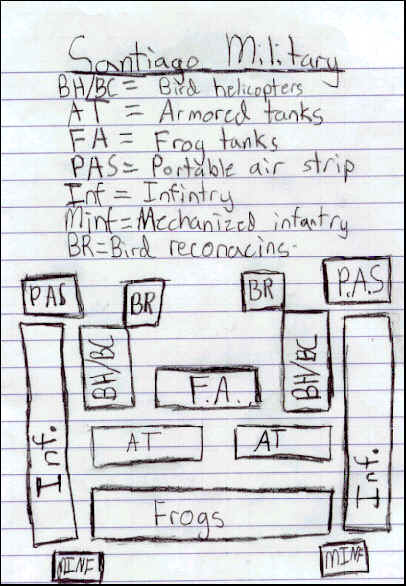 The Defense Perimeter